OUR TAILOR-MADE SERVICES FOR BUYERS
For your peace of mind, a fluent English-speaking consultant is at your disposal to provide full end to end service and accompany you at every stage of your investment.

1) We inform you about the features of the French property market, such as...
- the ins and outs of the purchasing process with the related legal framework (preliminary contract, deed of sale),
the role of the notary,
the way the French mortgage system works,
the current and real prices in each district of Paris in order to prevent you from overpaying,
the traps to avoid when you're looking for a flat in France.

2) We search a property according to your purchasing criteria and financing possibilities
A property search expert will show you a selection of flats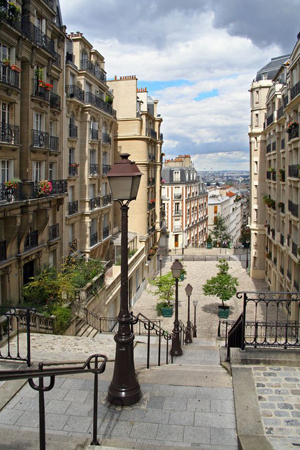 which he has already visited. He will target only those apartments that match your specific needs - you view only pre-screened properties that fit your search profile exactly.

3) A notary defends your interests until the signature of the final deed.
He makes sure that all documents written by the seller's notary are in accordance with your interests. He can translate the main legal documents for you so that you can make your decision with full knowledge of the facts.
Registration fees are shared between your notary and the seller 's one. There's no extra fee.

4) A financial consultant arranges your financing and follows through your tax declaration.
Thanks to 10 years of financial consulting experience, we are able to put in competition most of the French banks to provide you with the most competitive mortgage rates on the French market. Mortgages are available for up to 80 % of the purchase price. The duration or the kind of mortgage (amortissable, in fine) can be adjusted according to the desired downpayments.
One of our financial consultant can also:
open a bank account for you,
help you arrange property insurance
and follow through your tax declaration.

5) We select the providers for renovation or furnishing.
To save time and enhance your acquisition, we can select craftsmen, building firms or interior design advisors with the best quality-price ratio to renovate or refurbish your flat before you move in or rent it out .
We also propose furnishing your flat according to your specific tastes and needs .
Lastly, we are very careful to protect you from the excessive prices at which some providers sell to foreign customers.

6) We select the local realtor to manage the renting of your flat.
The realtor is responsible for finding a tenant for your flat. Within a global package, you also profit from guarantees against outstanding payments and from restoration of your flat if something is damaged. In this way, you eliminate the headaches associated with the renting of your apartment..