LEASEBACK
Build-up of property assets with freehold benefiting from a privileged situation, in city centre or highly-rated holiday resorts
The principle of French Leaseback
The leaseback scheme works on the principle that you acquire a newly built freehold property, fully furnished and lease it back to a management company, which then lets it to holidaymakers or executives on a business trip.
The properties are usually located in a tourist residence or a residence with Services which caters for short term lets and provide a variety of services usually to include reception, breakfast, laundry and linen services, cleaning. Most of the leasebacks offer high quality services and are ranked f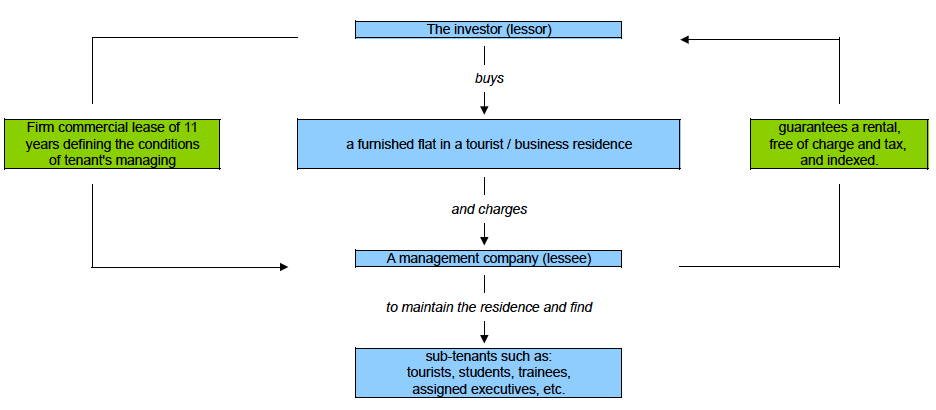 rom one to four stars - the higher rank the better the services offered in the resort, and the higher the guaranteed rental income is. Tourism residences are for seasonal letting (usually on a weekly basis) and offer a whole variety of extra services, such as a reception, breakfast, cleaning, bed linen, and also swimming pool, sauna, jacuzzi, hammam, sport room, tennis courts...
The Leaseback scheme has been in operation in France for over two decades and was introduced by the French government to enhance the tourist industry in different parts of France. Therefore, there are located in areas capable of attracting many tourists, whilst also addressing the need for quality city centre accommodation for both mature students and businessmen.
When leaseback schemes are sold, there is a pre-selected property management company to whom you "leaseback" your property for a period which usually ranges between 9 and 12 years. In return, you receive a guaranteed rental income ranging between 3% and 6 % per annum of your initial investment, depending on the property, whether you will be taking your holidays in it and where it is located
During the period you lease your property to the property management company, you have the peace of mind of owning property outright and benefiting from a guaranteed rental income, yet none of the worries related to letting out and maintaining the property. This is one of the reasons why the leaseback scheme is so popular and why there are not enough quality projects to meet demand.
A set furniture package is purchased by the owner. This one will not be given a choice of tiling or wallpaper as the properties are generally equipped and decorated to the same finish throughout the residence. The properties come equipped with fitted kitchens which depending on the development will include items such as hobs, extractor fans, sinks, cupboards, microwave, oven, dishwasher.
One final point is that leaseback is not timeshare. Whilst owners are leasing back their property and may only have use of it at specified times of the year, the owner is the Freeholder of the property at all times. One aspect of French apartment blocks which differs to apartments in the UK is that they are not leasehold.